[ about sangati ]
[ about gautam ]
[ concert pics ]
[ concert vids ]
[ contact info ]
[ reviews ]

join our email list:


your support:

We gratefully acknowledge support over the years from all of you who have attended concerts regularly, and from the following foundations:

National Endowment for the Arts, Alliance for California Traditional Arts, The San Francisco Foundation, The William and Flora Hewlett Foundation, LEF Foundation, Zellerbach Family Foundation, South Asian Giving Circle, WESTAF, AAPIP

Concert in SF!

Gautam Tejas Ganeshan
@ Red Poppy Art House

7:30pm Saturday,
Jan. 11th, 2014


Bhajana at BAM / PFA
Bhajana: Carnatic Song Sessions
Second Sundays of The Possible (exhibition)

Feb 9th / Mar 9th / Apr 13th / May 11th


Beginning at Eleven in the Morning
at the UC Berkeley Art Museum & Pacific Film Archive

A gathering of musicians explore South Indian song literature in group performances at the BAM/PFA, open to the public, free with admission to the museum. Congregational singing with an accompanying ensemble. Convened by the Sangati Center.

Interested in participating?

Contact

Gautam

.
Concert Series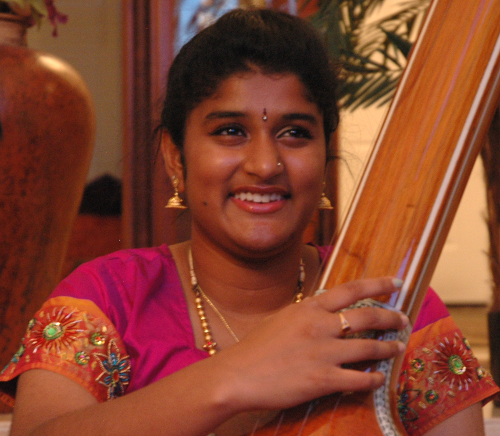 Carnatic Vocal Concert
with Nishevitha Ramesh
Sunday Early Evening
December 15th, 6pm at the
Subterranean Arthouse
Nishevitha Ramesh has been learning Carnatic vocal music for the past 12 years, and is currently getting trained under the tutelage of Dr. Vijayalakshmy Subramaniam from Chennai, India. Nishevitha has given concerts in California, New Jersey, Pittsburgh, and in India, and continues to perform for all the bay area Carnatic music organizations. She is applauded by all for her passion in Carnatic music and for her 'sruti-suddham' (pure tone) and 'bhava-rich' (soulful) rendition in all her performances. She is the youth representative for SIFA 2013, and is one of the organizers of Darbar Fine Arts in the bay area. A 11th grader at Mission San Jose High School in Fremont, she also sings music in French, plays the cello and violin, and composes songs of her own.
about the sangati center
Founded in 2006 by
Gautam Tejas Ganeshan
, the Sangati Center has hosted more than 400 public chamber concerts of Indian classical music. Sangati Center concerts are distinguished by being presented strictly acoustically, with nothing amplified or plugged in, and with humans rather than electricity being responsible for the sound - recalling an age-old approach where musicianship retains the focus in lieu of elaborate production.
Our concert series has connected
hundreds of artists
with thousands of listeners. Admission has always been on a sliding-scale, with nobody turned away for lack of funds. Concerts have tended to attract between 30 - 60 listeners. The Sangati Center has earned support from the National Endowment for the Arts, Alliance for California Traditional Arts, William and Flora Hewlett Foundation, Zellerbach Family Foundation, San Francisco Foundation, and others.
The word sangati in Sanskrit means "coming together", as opposed to sangita, which means "singing together", (which many people mistake as our name, understandably.) While sangita is also a general word for music, sangati has another, specifically musical meaning - it is the principle of development whereby a melody evolves by iteration.
contact info
info [at] thiswebsite
P.O. Box 9224
Berkeley, CA 94709