Concert Series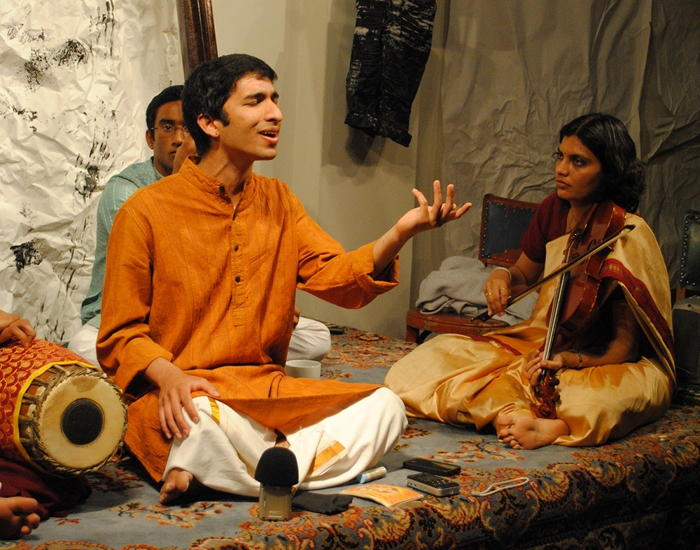 Carnatic Vocal Concert
with Anirudh Venkatesh
Friday Evening
May 24th, 8pm at the
Subterranean Arthouse

Anirudh Venkatesh - voice
Krishna Parthasarathy - violin
Sankar Narayanan - mridangam
Anirudh Venkatesh
went, sang, and won awards both at the Madras Music Academy, and at the Cleveland Thyagaraja Aradhana, which have become like the Carnegie Hall and the Outside Lands of South Indian classical music. He is currently guided by two gurus, both of whom are direct disciples of the legendary carnatic singer Semmangudi Srinivasa Iyer - P. S. Narayanaswamy, and Palai C. K. Ramachandran. He has also learned from Seetharama Sharma and Sugandha Kalamegham, and his earliest teacher, from whom he continues to learn, is Padma Kutty, from whom he began learning at five years old. Anirudh is now a student at Stanford University.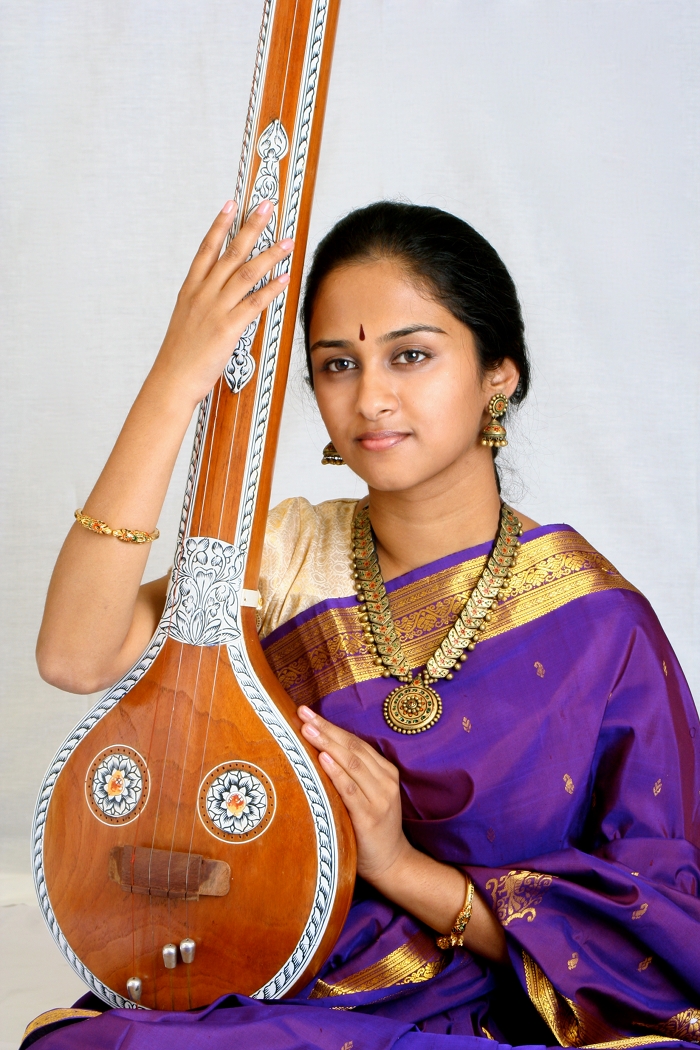 Carnatic Vocal Concert
with Ananya Ashok
Sunday Early Evening
June 16th, 6pm at the
Subterranean Arthouse

Ananya Ashok - voice
Krishna "Kitta" Parthasarathy - violin
Vignesh Venkataraman - mridangam
Ananya Ashok is at the vanguard of bay area Carnatic music. Featured consistently since 2009 in the San Francisco World Music Festival, she was also chosen as the 'Best Stage Performer' on South Indian classical music's rigorous answer to "American Idol" - "Carnatic Music Idol USA", a reality television show produced by a South Indian television station, filmed in San Jose, CA, and aired in India. Ananya has been recognized for her musicianship with several awards at the Cleveland Thyagaraja Aradhana, the largest festival of Carnatic music outside of India. She performs regularly in Chennai and in the United States, and in 2011 was granted a fellowship from the Alliance of California Traditional Arts. Coming from a musical family, she has learned extensively from Anuradha Sridhar, whose fine accomplishments as a teacher speak (and sing) for themselves regularly in the bay area. Ananya also plays and performs veena, which she learns from Srikanth Chary, and additionally trains in Hindustani vocal music with violinist Kala Ramnath.

Concert in the Redwood Grove
with the Bodhidharma Ensemble
and Gautam Tejas Ganeshan
Thursday Early Evening
June 20th, 5:30pm at the
UC Botanical Garden
A double concert! Led by saxophonist Prasant Radhakrishnan, the Bodhidharma Ensemble weaves together influences from classical Carnatic music of South India and ancient Chinese music on the 7-string 'guqin' in the hands of master instrumentalist Wang Fei. Commissioned earlier this year by the Oakland Asian Cultural Center, this groundbreaking group is not to be missed! Neither is Gautam, by the way. :)
Redwood Grove door opens at 5:00 pm.
Ticket includes admission to the Garden before 4:30 pm.
BYO picnic, drinks, and warm clothing - it may get chilly!
Purchase your tickets in advance (online) and save!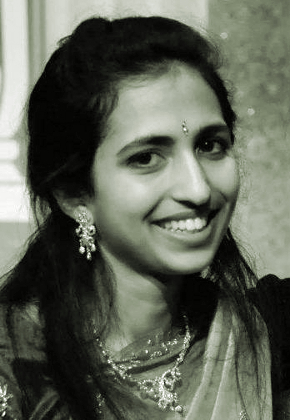 Carnatic Vocal Concert
with Siri Sruthi Sarva
Saturday Evening
June 22nd, 7pm at the
Subterranean Arthouse
Siri Sruthi Sarva's active concert life in California, Chennai, and Hyderabad has earned many listeners and accolades, including being the "music idol" two years running of an Indian-American talent contest. A student of Carnatic music for the past 14 years, Siri is a young veteran of the bay area Carnatic circuit, and currently learns from Sangeetha Swaminathan and Delhi Sunderrajan. Her committed, creative singing has been featured in musicals as well as ballets of bharatanatyam and kuchipudi dance, and was felicitated in 2012 at the Vaishnavi College in Chennai. Siri is a student at USC, and researches music therapy.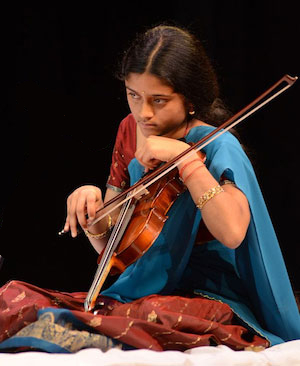 Carnatic Violin Concert
with Sruti Sarathy
Saturday Evening
June 29th, 7pm at the
Subterranean Arthouse

Sruti Sarathy - violin
Vignesh Venkataraman - mridangam
Sruti Sarathy is a representative of refined taste and delivery in Carnatic music, having received the Tambura prize at the Cleveland Thyagaraja Aradhana - the largest festival of Carnatic music outside of India. For ten years Sruti has been a vocal and violin student of Anuradha Sridhar, whose fine accomplishments as a teacher speak (and sing) for themselves regularly in the bay area. One of her most dedicated and accomplished students, Sruti was awarded an apprenticeship fellowship for continued study in a traditional guru-disciple format by the Alliance for California Traditional Arts. She has given concerts in many cities in the US and in Chennai, has regularly been featured in the SF World Music Festival, and recently performed at the Music Academy, Chennai.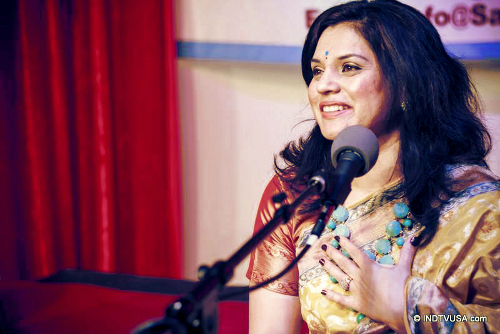 Hindustani Vocal Concert
with Madhuvanti Bhide
Friday Evening
July 12th, 8pm
Subterranean Arthouse

Madhuvanti Bhide - voice
Anand Karve - harmonium
Vikas Yendluri - tabla
Born and raised in Pune, India,
Madhuvanti
's fascination with singing began early, and she came under the guidance of N. V. Diwan. At the age of 13, she appeared for a music exam and passed out with flying colors. She would soon meet Dr. Alka Deo Marulkar, under whom she diligently practiced for nine long years, while additionally obtaining her degree in Fine Arts from the University of Pune. In 1991, Madhuvanti was also awarded the degree of Sangeet Visharad by the Gandharva Mahavidyalaya, Pune. For the last twelve years, Mahuvanti has been living in the SF bay area, giving well-received performances, including at the Ali Akbar College, the Maharashtra Mandal, and for local television and internet radio. She also received training, for a brief period, from Arun Dravid, a renowned exponent of the Jaipur 'gharana' ('house' or 'school' or 'style').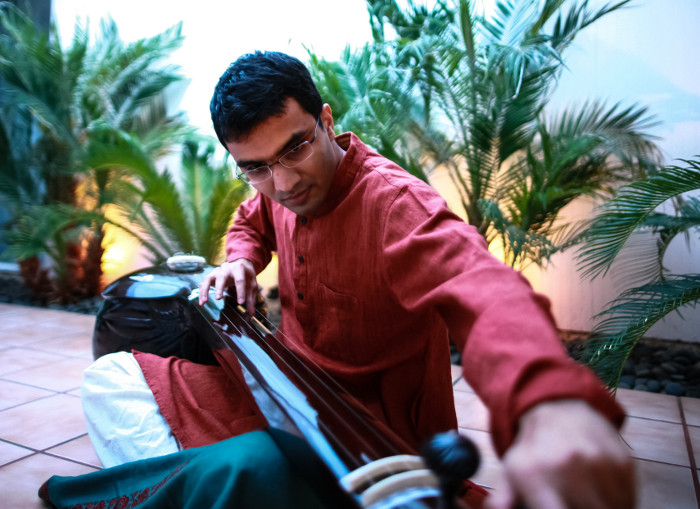 Carnatic Vocal Concert
with Harish Ganapathy
Saturday Evening
July 20th, 7pm
Subterranean Arthouse
Harish Ganapathy
, a disciple of noted violin artist V. V. Subramaniam, began his musical training in Bahrain, and continued under the tutelage of Tanjore S. Sitaraman, a disciple of T. M. Thyagarajan and P. S. Narayanaswami. Harish was awarded the first prize in the senior vocal category at the Cleveland Thyagaraja Aradhana Festival in 2000, and in 2005 gave a significant performance in Chennai accompanied by his guru on violin and Sangeetha Kalanidhi T. K. Murthy on mridangam. Harish is keen on the spiritual dimension of Carnatic music, as well as the laya aspects, his father being a mridangist, a senior disciple of both T. K. Murthy as well as Kalaimamani Tanjore Upendran.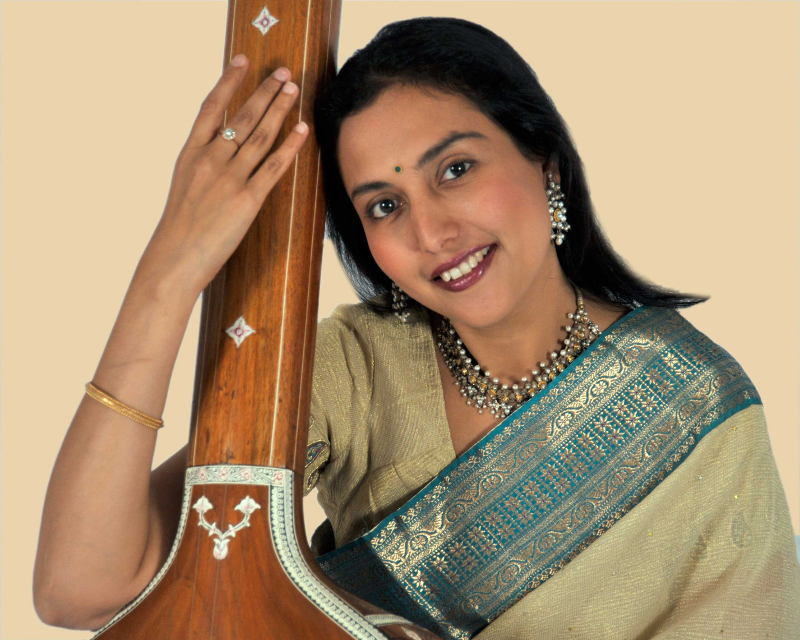 Hindustani Vocal Concert
with Rujul Pathak
Sunday Early Evening
July 21st, 6pm
Subterranean Arthouse
Rujul
made her debut at the Saptak Music Festival with a well-reviewed solo concert at the age of 14, about which The Indian Express said "We are seeing a rising star in Rujul Pathak." She represents the Agra Atrauli 'gharana' ('house' or 'school' or 'style'), and is a disciple of Shaukat Hussain Khan. A graded artist of All-India-Radio New Delhi, Rujul has been awarded the Omkarnath Thakur award by the Sangeet Natak Academy, and has performed live on Indian national television, as well as having thereafter appeared in many concerts in India and United States over the years. The Times of India says, "If voices could thrill, Rujul Pathak would definitely be held responsible for the act!"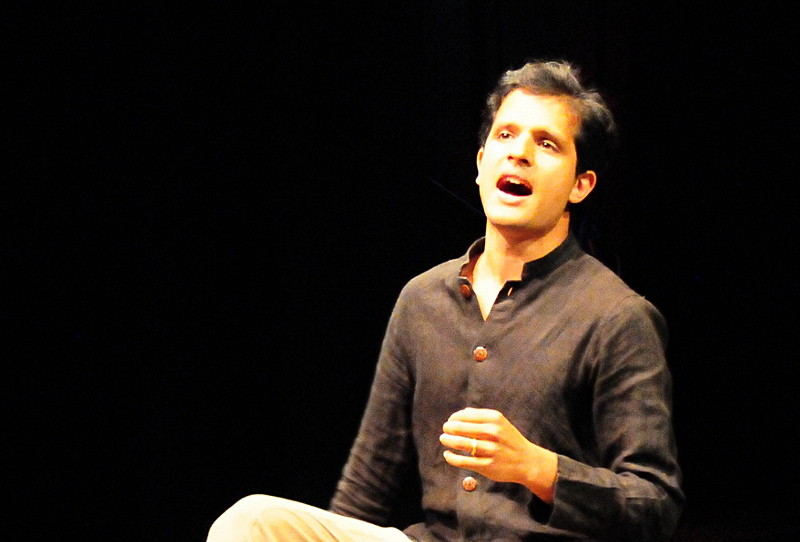 Sunday June 2nd
1pm at SFMOMA's final day (!)
Saturday June 8th
7pm at Viracocha (SF)
Thursday June 20th
5:30pm at the UCBG Redwood Grove (Berkeley)
Friday July 5th
8pm at Red Poppy Art House (SF)
Saturday August 3rd
7pm at the Subterranean Arthouse
Part of the Downtown Berkeley
Music Fest 2013
Gautam Tejas Ganeshan
[ Click here for more about Gautam. ]
Dubbed a "local treasure" by
SF Classical Voice
, and "a magnet for local Indian classical musicians" by the
SF Chronicle
, Gautam Tejas Ganeshan sings classical Carnatic music with distinction, innovation, and an inimitable personal style. He has galvanized the local scene, his compelling musicality and unique approach enabling him to inflect a tradition through himself so that listeners feel it speaks directly to them, and that its subtle beauty has grown new roots. Gautam's music expresses authenticity more than ethnicity, immediacy more than nostalgia - it is "new music from an old tradition" (
SFJAZZ
), representing the "ecstatic edge of contemporary Indian classical music" (
SF International Arts Festival
).
about the sangati center
Founded in 2006 by
Gautam Tejas Ganeshan
, the Sangati Center has hosted more than 350 public chamber concerts of Indian classical music. Sangati Center concerts are distinguished by being presented strictly acoustically, with nothing amplified or plugged in, and with humans rather than electricity being responsible for the sound - recalling an age-old approach where musicianship retains the focus in lieu of elaborate production.
Our concert series has connected
hundreds of artists
with thousands of listeners. Admission has always been on a sliding-scale, with nobody turned away for lack of funds. Concerts have tended to attract between 30 - 60 listeners. The Sangati Center has earned support from the National Endowment for the Arts, Alliance for California Traditional Arts, William and Flora Hewlett Foundation, Zellerbach Family Foundation, San Francisco Foundation, and others.
The word sangati in Sanskrit means "coming together", as opposed to sangita, which means "singing together", (which many people mistake as our name, understandably.) While sangita is also a general word for music, sangati has another, specifically musical meaning - it is the principle of development whereby a melody evolves by iteration.
["mission greenbelt" sidewalk garden]
contact info and email list
info [at] thiswebsite
P.O. Box 9224
Berkeley, CA 94709
pics from concerts
| | |
| --- | --- |
| [ arjun verma at subterranean 4.14.12 ] | [ ananya ashok at subterranean 4.28.12 ] |
| [ warren senders at subterranean 1.20.12 ] | [ sumithra vasudev at subterranean 3.17.12 ] |
| [ prasant radhakrishnan at subterranean 11.19.11 ] | [ kalambur brothers at subterranean 12.17.11 ] |
| [ mohan rangan govindaraj at subterranean 9.17.11 ] | [ mallar bhattacharya at subterranean 10.8.11 ] |
| [ mahesh kale 6.16.07 ] | [ mahesh kale 6.16.07 ] |
| [ prateek haldar @ sitarfest 4.18.10 ] | [ prateek haldar @ sitarfest 4.18.10 ] |
| [ michael lewis @ haiti benefit 1.20.10 ] | [ jody stecher 2.13.10 ] |
| [ srivani jade 1.24.09 ] | [ matthew rahaim 7.5.09 ] |
| [ karthik lakshminarayanan 2.21.09 ] | [ partha bose 11.13.09 ] |
| [ bharatanatyam workshop with shyamala 5.25.08 ] | [ partha bose 11.13.09 ] |
| [ ashok maitra @ tablacentric 11.2.08 ] | [ indranil mallick 11.15.09 ] |
| [ group tabla class ] | [ ICM for children with robin sukhadia 1.23.10 ] |
| [ srinivas reddy @ sangati SF opening 2.4.07 ] | [ shahid parvez 4.27.07] |
| [ audience 4.5.08 ] | [ audience 4.18.10 ] |
| [ first concert @ sangati opening 4.22.06 ] | [ old sangati center! ] |