"Sangati recalls something of the art houses of the 1950's and 60's that nurtured the likes of jazz icons John Coltrane and Thelonius Monk, and incubated the careers of folk artists like Dylan. Those were raw and often messier times, with music that drew from the deepest creative wells. Ganeshan's mission is no less committed and to that end he requires two things of his performers: 1) that they be serious about taking their music to that 'well' and 2) that they perform without amplification."
- Andrea Pflaumer, SF Weekly
"Unplugged, yet Plugged In"
8.10.2007
"The 25-year-old is seated on a rug in the one-room Sangati Center in the Mission District of San Francisco. Several dozen spectators, all of whom have removed their shoes at the door, wait for Radhakrishnan to begin. Finally, he drops his head, closes his eyes, and leans his left shoulder in to coax the first noise from the sax. It is, when it emerges, not a jazzy or bluesy sound, but a soft, distinctly carnatic murmur that ascends briefly, then tumbles down deep like a drone."
- Andrew Tolve, SF Chronicle
"Sax Player Melds Jazz, Indian Classical Music"
2.26.2008
" 'I'm an advocate, but not an activist for acoustic music,' Ganeshan said. 'I want people to just sit down and make music. I don't have a big aptitude for speakers and electronics.' He adds, perhaps unnecessarily, that he is not Britney Spears. 'Some people who are regulars here went to see her concert and they told me the most interesting thing about it wasn't the music, but the production,' he said. 'Where is she going to come from next, what's happening with the lighting, that kind of thing.' There won't be a lot in the way of special effects at Sangati Center concerts."
- Emily Wilson, SF Examnier
"SC Showcases Classical Acoustic Indian Music in SF's Mission"
9.19.2009
" 'I am most interested in chamber concerts [...] It's a really really pure, beautiful art, so I thought I should do something to create a space that makes the concert experience reflect the depth of the music,' Ganeshan said. 'Simple but beautiful.' [...] The Sangati Center projects an aesthetic at once refined and unpretentious."
- Madeleine Bair, Mission Local
"Traditional Indian Music in a Nontraditional Way"
10.1.2008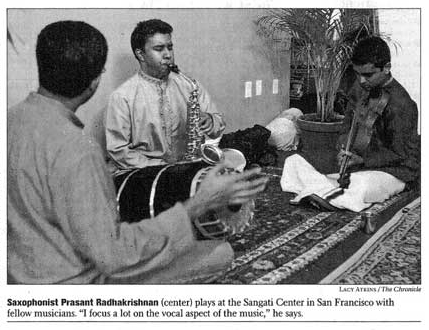 "Karnatik music is an endemic art, mostly patronized by a South Indian audience, both in the Bay Area and around the world. 'A more diverse audience is getting exposure to Karnatik music through San Francisco's Sangati Center, which targets an audience that appreciates music as an art,' says Jerry Barr, a tabla professional."
- Kalpana Mohan, India Currents
"Karnatik Revival"
5.5.2008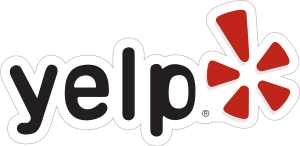 "I had a wonderful time listening to a concert featuring Prateek Haldar on Sitar and Debopriyo "Bubai" Sarkar on tabla tonight. It was nice to hear acoustic music in such an intimate setting. The room was the size of a medium sized living room. People were sitting on cushions on the floor. I sat on the pew along the wall.

As I listened to the music, I felt a warm feeling from the music. Someone told me that Indian music is very spiritual. There are notes in their scale which are not present in the Western scale. These notes speak to the soul. In a sense, this is Indian soul music.

The whole experience was enhanced by the audience. I noticed that we started with 20 people. After the concert started, more and more people started arriving. At the end of the concert, we had a crowd of 50 people. They ranged from ages 20 to 50, all races, gay and straight. It was a reflection of San Francisco.

To add to the warmth of the evening, I was happy to hear all the proceeds from the concert were being donated to the Haiti relief fund."

- Robert C.



"I came for a Bansuri concert a few weeks ago and left thoroughly impressed. Now I'm on their email list and will probably sign up for the 5-week beginner tabla class starting in March.

I had expected a typical, albeit small, performance hall with audience seating. Instead I opened the front door into a space about the size of my living room (granted, I have a big living room). There is a wood bench along one side of the room, and the musicians sat on the floor along the opposite wall. Everybody else found a cushion and sat on the floor (or, eventually, on the shoe rack).

The concert (Prasad Bhandarkar) started at 7 PM, but people kept arriving for what seemed like the next 90 minutes. I'm not complaining; it was very cool to see how many people were interested in Indian classical music. Regulars said they'd never seen the place so crowded; it was a bit like Howrah train station in Kolkata! At one point the front audience row was maybe 2 feet away from the musicians, and I remember one gentleman decided to get closer to the stage by sharing space with a potted tree.

The concert was amazing. I have several years' worth of Western classical music education under my belt but only rudimentary exposure to Indian classical music. Prasad gave what seemed like a 30-minute awesome introductory lecture on the bansuri as well as tanpura and tabla. That bit of music theory 101 was what picqued my interest in taking tabla lessons at the Sangati Center.

This is a wonderful, intimate venue and a great way to listen to Indian classical music. Sangati Center has a lot to offer, and I'll start supporting it more regularly. I feel bad for paying only $15 (I think it was a sliding scale between $10-$20); Gautam obviously puts a lot of time and energy into this place and I should have given more. My bad."

- S R.



"I was in SF last year on a vacation and was fortunate enough to discover Sangati Center. Now that i have moved to SF, i hope to support this place more.

If you like indian classical music but have only witnessed regular concerts/events, welcome back to the basics - unadulterated sound, a comfortable mix of independent and well-known artists, and non-profit to boot. Live music can't get more pure than this.

All the best to Gautam, an inspired and passionate young man who has manifested a brilliant and noble idea into reality."

- Miki N.



"I started coming here when it first moved from the East Bay. I haven't had the time to go this year due to school and other responsibilities, but Gautham always has the cream of the crop picks, whether that is some famous Carnatic singer from Tamil Nadu or some Hindustani sarod player named Dr. Gupta who now lives in Fremont, South Bay. I have never ever been disappointed by anything here. it is a wonderful vibe and I have to come back soon!"

- Caitanya M.



"This is a relatively new performance and community center space for South Asian music, and is really an amazing experience. Since its opening weekend in the end of April 2006, the Sangati Center has grown in popularity and has become well known as the only venue of its kind in the bay area in a short time.

As a performer of Carnatic music on the saxophone, I have performed there twice and have attended other performances. It is a community arts experience not to be missed. Gautam Tejas, the administrator and founder of the center, has created something original and innately helpful to the bay area music and arts community here. You can even expect freshly cooked organic homemade food at the center after each performance. The center also has other features like listening sessions. Check out the website for more details on that.

The space is completely acoustic (no mikes to get in the way of the sound) and offers a great venue to listen to acoustic improvised music, focused on South Asia. It is a great way to hear both well-known artists, upcoming artists, and even those who love to play but don't always have a supportive venue to perform. You can also become a member patron and get special benefits. Go out and support this innovative space!"

- Prasant R.



"When I moved into my apartment at 22nd and Shotwell a year and a half ago I couldn't help but notice the empty storefront on the corner. Two giant glass walls facing the intersection, out here in a pretty residential part of the Mission. What would arrive, I wondered? Another hair salon? A clothing boutique? The answer was: no, not those, not anything I'd seen in the neighborhood before, but a top-notch classical Indian music venue that doubles as an art gallery. It is the ongoing creation of Gautam, a wonderfully warm young Indian soul who keeps the place packed with events: a classical sitar concert one day, a tabla performance the next, yoga classes on the weekends, a calligraphy artist another. I was completely unfamiliar with Indian classical before he moved in; now, I stop by whenever I can and listen entranced."

- Noah F.



"Sangati Center is a jewel in the Mission of Indian culture. It is an intimate space to hear live classical Indian music, but they also have other events, lectures and movement classes, such as dance and qigong. For those with creaky hips or knees, there are a couple wooden benches, but be prepared to sit on cushions on the floor."

- Paula A.



"It was my first time at Sangati Center last night - Prasad Bhandarkar on flute.

Being new to the city, I was looking for some place which would help me reconnect with indian classical music and help me make some like minded friends and I have to say that I struck a gold mine the very first time!! Very cozy - homely setting and absolutely wonderful people.

Prasad explained the Bansuri in minute detail - also eplained the rag 'Jait'. What's more - he answered all the questions in great detail! I have been to a number of concerts performed by the greatest artists of classical music but this was no less enthralling!

Gautam has done a great job of putting this all together!!(add 1 more bonus star to the review)

Met some great people - Nalini, Paul, Josh, Jaya and Laura. And hopefully will meet many more next Saturday!

Go Sangati Center!"

- Krutik S.